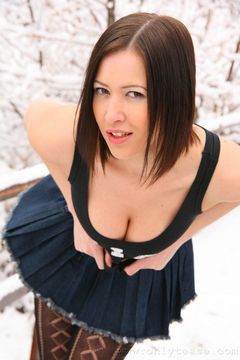 It's looking rather snowy and cold outside, but Carole is making things hawt in this Only Tease photo set. She posing outside, in a stunning snowy scene but it has to be freezing cold out there. Not only does she take her clothes off out there but she also manages to keep her sultry smile the whole time.
In this cold photo set, Carole is wearing little black top, denim miniskirt and black patterned pantyhose. Nothing else to keep her warm. No knickers, no bra. And by the end of this photo shoot all that she was wearing was her pantyhose. I hope she had a nice warm coat and a cup of hawt chocolate waiting for her after this shoot.
you can see all of this lovely, but cold photo set at Only Tease today. Carole was voted newcomer of the yr, and her ability to keep this set lovely proves why she deserved that award. I can guarantee if you put me out there, I wouldn't be smiling or looking lovely like she does.